ALLENTOWN
The following was taken from an article written by Clifton D. Cardin, Bossier Parish Historian:
Allentown was best described by the Shreveport Times, October 24, 1894.
"In the spring of 1891, Messrs. Allen Bros. & Watley, saw mill men of long experience, bought several thousand acres of land in Bossier Parish, and, three miles north of Haughton, they established one of the largest and most complete saw and planing mills in the state. This place is known as Allentown. It is one of the busiest places in America. From daylight until dark the hum of the saws and clattering of the planing mill knives furnish music by which every man and boy able to do duty, march. There are no drones or idlers at Allentown, and none are allowed to remain there - all must work or move on. From 120 to 140 men are kept constantly employed. The employees live within a short distance of the mill in houses which were built for their comfort and convenience by the company. While Allentown is not incorporated, yet the best of order and discipline is maintained. In a word, it is a model town. It has its own school house, church and Sunday school;, a resident physician, a large store which is stocked from one end to the other with general merchandize, and many other comforts and conveniences not often found in more pretentious towns. The average daily attendance at school is forty. Church services are held regularly once a month by Rev.J. B. Williams, a Methodist minister. Sunday school services are held regularly every Sabbath. Dr. W.J. Mobley is the resident physician. No whiskey or intoxicants of any knife are allowed to be sold or handled, and immediate discharge is the penalty for any employee, it matters not what position he occupies, who appears in Allentown drunk or under the influence of liquor. This is an inflexible rule of Mssrs. Allen Bros. & Wadley. The employees are paid off every evening at 6 o'clock.
THE MILL AND IT'S CAPACITY
The saw and planing mills are furnished throughout with the best and latest improved machinery, every piece of which is entirely new. All kinds of yellow and oak lumber are manufactured. the average daily output of lumber is about 70,000 feet and the monthly shipments range from sixty to ninety cars per month.This lumber is shipped principally to Kansas, Nebraska, Colorado, North and South Dakota, Illinois, Missouri, Texas and the Indian Territory. The capacity of the planing mill is 100,000 feet per day, quite recently a Ketchum dry kiln with drying capacity of 40,000 feet per day, has been put up. There is on hand at present about 4,000,000 feet of lumber.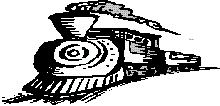 The shipping point of Allen Bros. & Wadley is Wadley's switch on the Vicksburg, Shreveport and Pacific Railroad, three miles east of Haughton, while their express office and telegraph office is at the latter place.
This firm owns nine miles of railroad, which they are gradually extending due north, and will soon reach the Bodcau. One locomotive and twenty flat cars are daily employed hauling logs from the interior to the mill. Allen Bros. & Wadley own 6,000 or 7,000 acres of timber land and own the timber on thousands of acres of other lands adjacent to their line of railroad. The railroad is not only indispensable to the mill, but is of great service to the people living along or in close proximity to it. For some time the farmers have been endeavoring to get their cotton hauled by rail to Wadley's station, and Messr. Allen Bros. & Wadley, ever ready to do all in their power to accommodate their friends, have entered into correspondence with the officials of the Vicksburg, Shreveport and Pacific Railroad and as soon as satisfactory arrangements can be made they will build a warehouse at Wadley station and begin to haul cotton and other farms products to and from that station.
The population of Allentown is between 400 & 500 souls. It is strictly a saw mill town, where everything is on the qui vive from sun rise to sun set. It is a veritable human bee hive. There drones, idlers or tramps have no abode. Allentown is a regular post office and has daily mail service."
A map from 1896 shows the location of the Allentown station on the Vicksburg Shreveport and Pacific Railroad line between Doyle Station (Doyline) and Haughton. It also shows the sawmill railroad running from the Allentown station to Bellevue.
The sawmill operated in eastern Bossier Parish from 1891 until 1908. Remains of the old sawmill still exist, outside the domain of the LAAP, but very close to the Allentown Cemetery that is located inside the boundaries of LAAP.
There is only one marked grave in the cemetery. That headstone reads:
IN LOVING
MEMORY OF
OUR DEAR BABY
ROSSIE LEE
WIMBUSH
BORN NOV 13
1898
DIED MCH 13
1899
AGE 4 MTS
----------------------------------------------------------------------------------------------------

The following was taken from archeology studies of the Clarke Bayou Area of LAAP.

ALLENTOWN COMMUNITY

Lumber - Farm - Ordnance

1891 - 1910 - 1941

Mill Towns

One important element in the successful operation of a lumber milling process was the establishment of a company town. Such communities usually included not only the log ponds, mills, and equipment associated with the running of a lumber business, but also houses, churches, and schools which were built adjacent to the timber holdings.

In general, the life span of a typical mill town averaged less than 20 years, the length of time necessary to clear cut the timber in the vicinity of the mill. It was the usual practice then to move the mill and town to a new site, rather than to bring logs in from a distance.

ALLENTOWN Mill

1891 - 1910

Construction of the Vicksburg, Shreveport & Pacific RR opened land in the area of today's Louisiana army Ammunition Plant (LAAP) to development and stimulated the growth of Doyline after 1880. Most importantly, the Railroad made possible the successful exploitation of timber resources along Clarke Bayou, and between 1891 and1910 Allen Brothers & Wadley, Ltd., acquired and cut thousands of acres of timber lands. Simultaneously, the mill town community called Allentown developed in 1892 in the northwestern portion of LAAP

HISTORY

1891-----1941

Within the boundaries of the LAAP, the most extensive lumber milling operation and associated town recorded to date was that owned by Allen Brothers and Wadley, Ltd. Established ca. 1891 with the construction of a mill, the operation developed into a prosperous business which spawned a town, Allentown, which remained an identifiable community until 1941, long after the mill closed.

The mill was located in the NW1/4 of Section 11, T18N, R11W, and was aside what was known as the Allentown Road that began at Haughton, proceeded east across Clarke Bayou near the present location of the Allentown Cemetery, crossed the LAAP in a northeasterly direction, and emerged from the present LAAP near the main gate into the McIntyre Community. A portion of this road still exists from Highway 164 west into Haughton. The tram road, known as Wadley Switch, came out of the mill and proceeded south to intersect with the VS&PRR between Doyline and Haughton.

The earliest reference, located during historical research in 1987, to the mill operated by Allen Brothers and Wadley, ltd., on the LAAP was in 1892, when the company was taxed in Bossier Parish upon 4,840 acres valued at $6,050.00, 2 mules, 1 horse, and 30 yoke of oxen valued at $1,405.00, 2 wagons and 12 log wagons valued at $650.00, merchandise (indicating the presence of a worker's commissary) valued at $2,500.00, and property including a sawmill and outfit, 1,500,000 feet of lumber, 2.5 miles of railroad tract iron, and 1 locomotive valued at $24,500.00.

By 1895 the Bossier Parish tax records indicate that the company owners, several of whom lived in Allentown, had added a steam planer, additional acreage, and fixtures on which they paid taxes on a total value of $52,890.00. Five years later, they had added a dry kiln, 14 miles of railroad and additional merchandise. They paid taxes on a total value of $71,580.00.

Just as the valuation of the land and equipment owned by the company increased steadily after 1892, the number of Allentown residents in Bossier Parish who paid Parish taxes increased substantially as well. Among the residents were two doctors—J.W. Moberly and T.S. Parham—and many white and black workers. At the turn of the century, Allentown had approximately 239 permanent residents, 154 black and 85 white, with 37 black households and 15 white households. There were 30 households that rented and 17 that owned their dwellings. It is probable that the lumber company provided some type of housing for a number of these households.

The increase in value of the mill operation, which had occurred between 1892 and 1900, continued for a number of years. By 1905, the company had added an electric plant, school, and more acreage for a total value of $73,170.00. In 1907, the company owned acreage in Bossier Parish had increased and the total value had reached $112,600.00.

The year 1907 represented the apex in the history of the operations of Allen Brothers and Wadley, ltd, with the plunge in total value in 1908 to $18,250.00 and further decline in 1909 to $2,250.00. However, by 1908 the mill had been in existence for approximately 16 years, not far from the 20-year life span for mill towns mentioned earlier. Indeed, by 1914, the owners of the company had divested themselves of all but 160 acres in Bossier Parish, which were valued at $400.00.

In a similar fashion, the resident population associated with the operation of the mill showed a dramatic decline between the 1900 and 1910. In 1910 there were only 95 individuals—81 black and 14 white—in 20 households, of which 16 were black and 4 were white.

The Allen Brothers and Wadley, ltd., company left several indications of their occupation in the area, the strongest of which was the continuation of Allentown as a widely dispersed black farming community after the closing of the mill. While the majority of their labor force left the area after 1910, a handful of employees who had purchased land from the mill and several tenant farmers stayed in the area.

Allentown community had a one-room schoolhouse that was eventually consumed into a consolidated system. The community also had a church, which was moved to the Doyline Road, southeast of the intersection of Highway 80 and Highway 164, where it is currently known as the New Hope Church. Following the demise of the mill, Allentown became an all-black community in which most of the houses were shotguns or old shacks with two or three rooms, sited one to one-and-a-half miles apart.

Abandonment of the area by Allen Brothers and Wadley after 1910 and the subsequent sale of the company properties to local, primarily black residents, resulted in a major change in the economy as Allentown, formerly a company town associated with the lumber industry, evolved into a widely-dispersed black farming community anchored by a school and church.

That farming community remained a relatively stable population until 1941 when the United States government purchased the land along Clarke Bayou as part of what would become the LAAP

The End